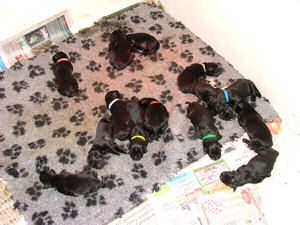 Puppies are identified by their coloured collars

Sandbears Puppies


We have a limited, well planned breeding program with some matings planned years in advance. We breed for what we believe to be the betterment of the Breed and to produce our own show winning dogs. Along the way we get to indulge our love of this very special breed and have puppies available from time to time for both show and pet homes.



Sandbears subscribe to best practise guidelines outlined by the UK's Newfoundland Clubs and the Kennel Club. We have completed all of the undertakings and passed the inspections which allows us to participate in the Kennel Club's Assured Breeder Scheme.

If you are considering a first Newfoundland puppy, we welcome your enquiry but PLEASE do your research thoroughly, including carefully considering the information on our Advice page.

On this page we will announce planned litters and puppy availability. When we have no puppies available, we will put prospective owners on our waiting list.