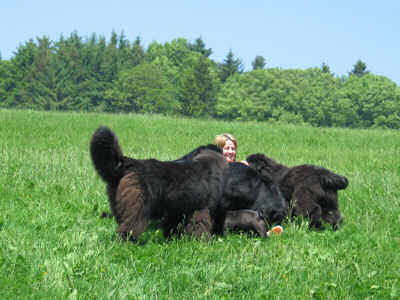 Typical breed temperament, devoted is one word for it!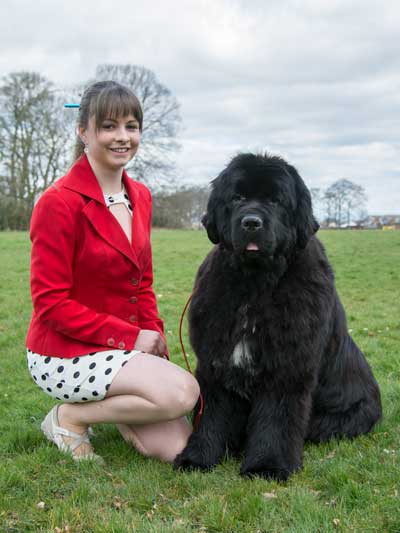 My daughter, Rebecca, with Cash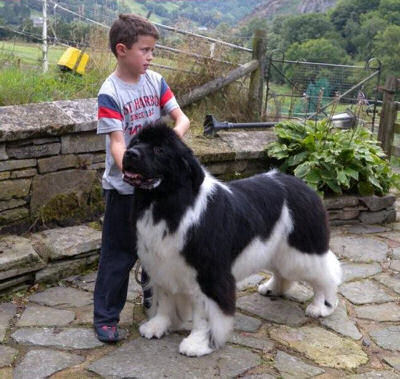 Jack practising show standing with Robbie.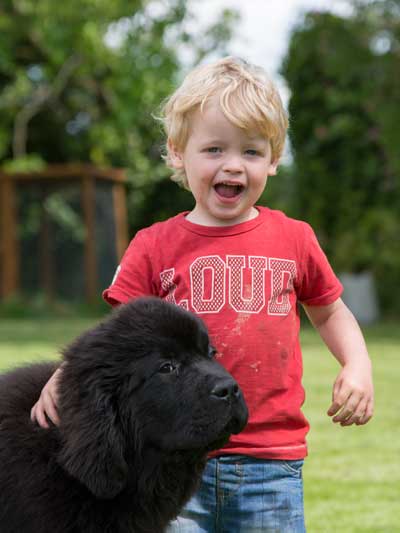 Harrison with a puppy.
About Sandbears
I'm Suzanne Blake. formerly Suzanne Coffey and I have been showing, breeding and most of all
enjoying
dogs for more than 30 years. However, it is only since 2001 that I became involved with Newfoundlands. I encountered by first Newfoundland when I was 18 years old and immediately decided that one day I would be owned by one. Now, as you will see from looking around the web site, I am totally owned!
Ethos
I am absolutely dedicated to the breed and my intention is to own, exhibit and breed Newfoundlands of the very best quality. For Sandbears, temperament is paramount followed by health and then excellence in type and construction. In order to achieve those goals, I have imported top bloodlines from Italy, the USA, Hungary, France and Finland and will continue to do my best to widen and strengthen the gene pool so promoting health, longevity and the best in temperaments and type.
Family and friends
I'm fortunate to have the full support of my children who help at home, with the dogs and at shows. My daughter, Rebecca did very well as a junior handler and still occassionally shows her favourites, including her newly acquired Great Dane! My son Jack is less involved with the dogs, preferring the usual activities of a teenager while Harrison, my youngest, has a wonderful way about him with all of the animals but is a bit too small as yet to handle a newfie in the show ring ... but watch this space! It is wonderful to have the support of my family and a circle of dear friends, I thank you all.
Location
We recently moved to a new home in West Yorkshire where we are surrounded by fields and have plenty of space for our doggie family (and the rest of the menagarie!).